Vršecký Ranks Second After a Drama!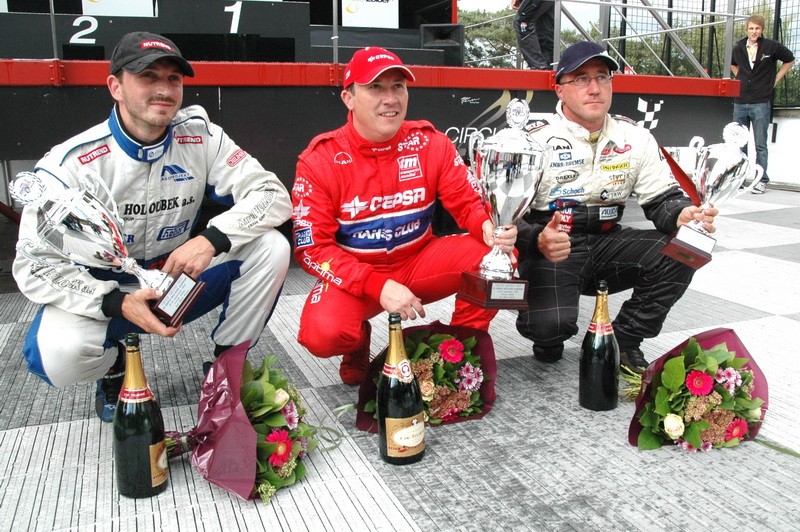 The first cup race in Zolder brought the second ranking to David Vršecký, who was only unable to prevent defeat by Antonio Albacete. Markus Bösiger struggled with a damaged tyre for the whole second half of the race and eventually ended eighteenth.
David made use of the most advantageous starting position achieved by the successful time practice and took the lead, followed and carefully watched by Albacete. The third Hahn was gaining an increasing loss throughout the race, eventually reaching over ten seconds in the finish. "I started extremely well, and in addition Zolder is for me. But Antonio was stuck to me all the time," commented David the happening on the track. The greatest drama of the race came in the last but one round, when David tried to overtake a slow truck riding a lap behind. The anonymous Dutch trucker, however, could not bear the gravity of the moment and blocked David. The problems of our driver brought an advantage to Albacete, who too the advantage of the moment and overtook David to take the lead. "When somebody decides to ride a race truck once a year and gets the licence, OK, he has the right to do so. But such a trucker should at least know how to give way to the quicker ones," said David Vršecký in reaction to the situation that occurred. For the rest of the race he struggled with Albacete for the victory, but in vain. In addition one of the duels resulted in a contact between the two trucks and so David had to visit the tower after the race. "I received a reprimand. Probably every sensible man would understand and I did my best to win the excellently begun race. Regarding the circumstances of the finish I cannot be satisfied with the second ranking. I was up to the victory," commented David on his performance in the race!